"We can't think ourselves into a new way of living. We can only live our way into a new way of thinking."
Claude AnShin Thomas is an American Zen Buddhist monk and Vietnam War veteran. He is an international speaker, teacher and writer, and an advocate of non-violence. AnShin was brought to Buddhist practice first by a Vietnamese Zen Buddhist teacher in 1990. He was fully ordained as a monk in the Soto Zen Tradtion in 1995 by an American Zen Buddhist teacher and received the name AnShin AnGyo=Peace Heart/Mind Peacemaker. Click here for full bio.
AnShin teaches Zen Buddhist meditation practice and teachings to the public through social projects, talks, and a variety of retreats. Since 1994 AnShin has walked over 70,000 miles on pilgrimages throughout Europe, Asia, the Middle East, and the United States. While walking, AnShin carries no money, and begs for food and shelter in the mendicant monk tradition. Learn more about him and his work on his website.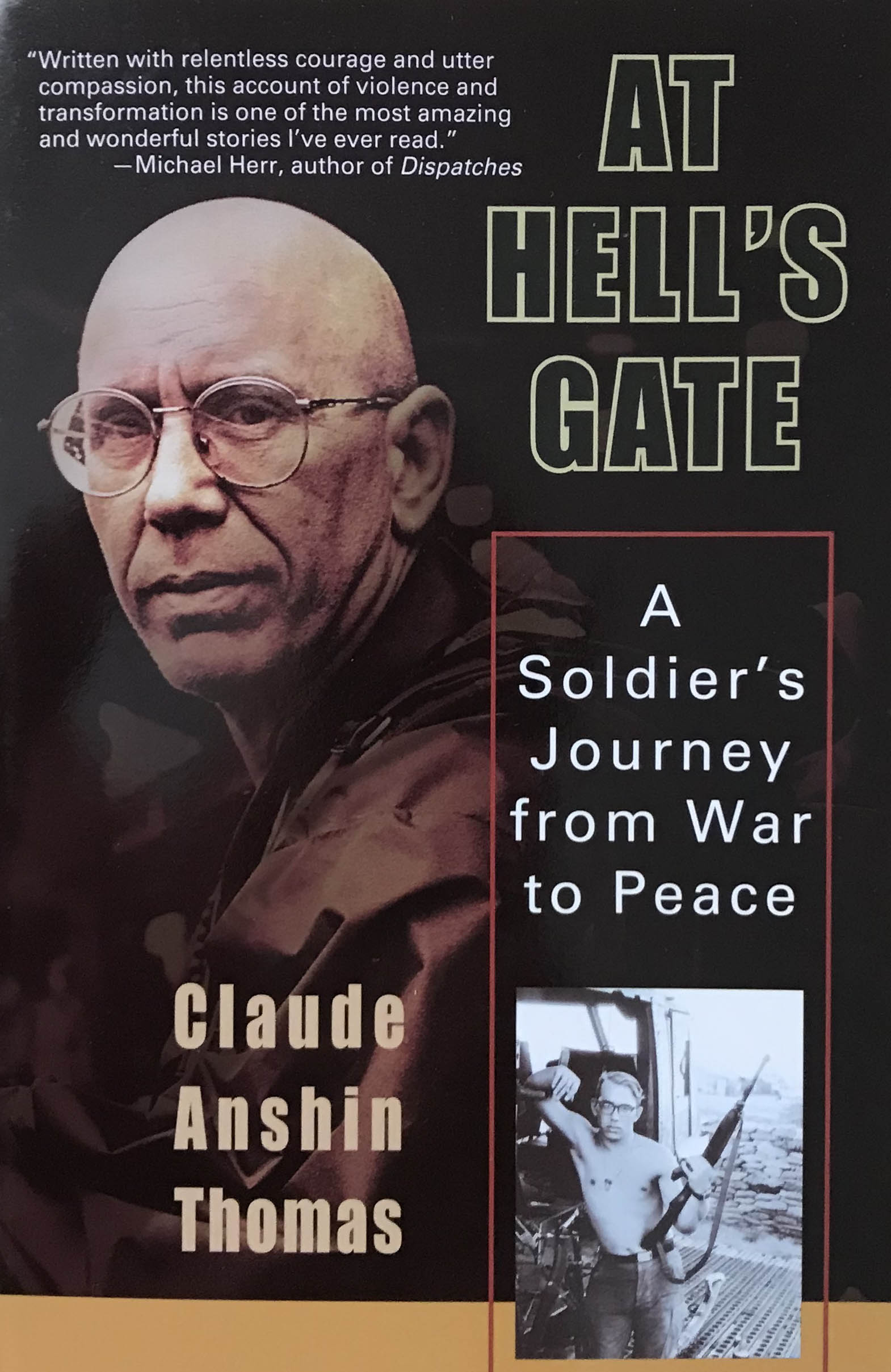 AnShin is the author of At Hell's Gate: A Soldier's Journey from War to Peace (Shambhala 2004). He is the founder of the Zaltho Foundation, a nonprofit organization dedicated to promoting mindfulness and nonviolence.
You can get a taste of AnShin's engaging style of presentation and the power of his message regarding the need for "a disciplined spiritual practice based on self-reflection" in addressing the violence and war in our world by watching or listening to some of his public talks and interviews:
• Being in the World without Misery (a talk given at Tara Brach's center) Part 2 of this talk.
• Waking Up to Compassion in the Face of Aggression
• Talk to Veterans at Marymont University 2013
• Join AnShin and KenShin for a meditation retreat.
"The seeds of war are not outside of us. The seeds of war are within us."
Coming to Louisville! AnShin and KenShin, his assistant for 20 years, plan to visit us in Louisville on October 10 - 14, 2018.
During these 4 days, AnShin will offer:
- A Public Talk, October 11, Thursday evening from 7:00 to 9:00pm at the Earth & Spirit Center (details)
- A 2-day Non-residential Workshop, October 13 & 14, Saturday and Sunday from 9:00am to 5:00pm at the Earth & Spirit Center (details & registration)
- other programs TBA
AnShin would like to serve the Louisville community in whatever way we may feel a need. For example, working with military veterans, college students, churches, meditation communities, schools, kindergardens, governing administrations, the addicted, psychiatric hospitals, prisons, and those who are generally interested in living a more awake, conscious and connected way of life, so please share your needs and ideas with us!
We are also seeking support in getting the word out to the many individuals and organizations who could benefit from AnShin's and KenShin's presence and their teachings. Questions? Comments? Please drop John a note.
The financial cost of their visit (travel, food, and accommodation) will be covered by Flowing Dharma. To support this event with your donation, please go to this page. We very much appreciate your generous support.
Please consider giving a donation to Claude AnShin Thomas and Wiebke KenShin Andersen to support their life and their continuous work in the world since both have taken vows of mendicancy and do not receive any honorarium or payment for their service. If you would like to support AnShin and KenShin with a donation, please go to this page.
"If we want the world to be a different place, then we as individuals have to live differently.
Through mindfulness as part of a disciplined spiritual practice, we can nurture healing and
transformation within ourselves, and this can change the world."
— Claude AnShin Thomas