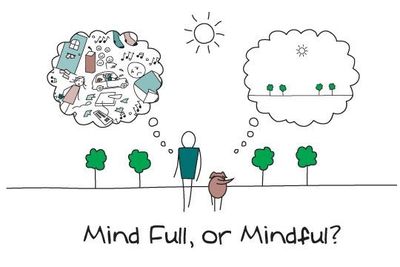 Thank you for following up from the taste of mindfulness you experienced in one of my Mindfulness trainings. Even with this brief exposure, perhaps you felt the potential power of mindfulness not only for your professional work but also for your personal life.
This link will take you to key training materials selected from the Mindfulness-Based Stress Reduction programs which I've taught for over 15 years. This 8-Week Home Study Program (sometimes called the Stress Management Toolkit) contains a variety of recorded guided meditations, 10-, 20-, 45-minute versions, along with instructions introducing you to Hatha yoga. The training manual guides you through the program with weekly reading material and daily practice suggestions. During some weeks, select YouTube videos will move you toward your goal of cultivating a daily mindfulness practice.
• Enjoy this video about the workings of mindfulness - some encourgement to and share mindfulness with others :-)
I trust you'll give thoughtful consideration to making time in your busy life to work through this program - one week at a time. This is one of those "you get back what you put in" kind of things. Some people engage in this self-directed program like they are taking a college course. These folks often find that it transforms both their professional and private life. They become more relaxed and compassionate with themselves and others. Some other folks can only make time to practice with the guided meditations a few days a week yet still experience significant stress relief. You might ask yourself, "isn't now the perfect time to make this investment in myself?" There is no cost for these materials, you'll just need to invest your time and attention. Access the 8-Week Home Study Program by Clicking Here.

"Because our untrained minds take an enormous toll on our psychological and spiritual well-being,
and because, once tamed, a concentrated mind offers enormous benefits." From Essential Spirituality by Roger Walsh.
I've provided a selection of YouTube videos below that I use in some of my other mindfulness training programs. They present current research findings on the power of mindfulness as well as various elements of our "social engagement system." It's a safe bet that you'll find some of them interesting and stimulating and perhaps they will encourage you to further explore some of these areas of research.
If you have any difficulty accessing or downloading this material, please drop me a note and we'll de-bug together.
Let me know how I can support you and/or your organization on this journey to a more peaceful, healthy and productive lifestyle and a more effective business process - the natural fruits of a regular mindfulness practice!
Blessings,
John
For more on Mindfulness:
• A 7-minute video with Jon Kabat-Zinn
• A 2-hour talk by Jon Kabat-Zinn
• Dan Siegel - an 80-minute talk on Interpersonal Neurobiology
• Sue Johnson - 11-minute Video on The Still Face with Child and Adults
• Stephen Porges (Polyvagal theory) 11-minute video with German interviewer
• The Body Keeps the Score a 120-minute talk by Bissel Van de Kolk

• Peter Levine 27-minute video on Somatic Experiencing
• Bringing Mindfulness to Children - a 20 minute video with Dan Siegel
• Brainstorming - a 2-hour video by Dan Siegel on the teenage brain
• Daniel Goleman on Emotional Intelligence (1 hour video)

Mindfulness in the Workplace
• An article from The Atlantic, Corporations' Newest Productivity Hack: Meditation
• An article in the Huffington Post about mindfulness in the workplace

• A Forbes Magazine article, A Guide to Mindfulness at Work
• A 2016 review article: "Mindfulness in Organizations - a Multi-Level Review.
• A professional "White Paper" on Bringing Mindfulness in the workplace from the University of North Carolina Business School
Review Articles on the effectiveness of Mindfulness Training (especially MBSR):
• The impact of Mindfulness Training on Psychological Health
• The impact of Mindfulness Training on Physical Health
• Other Information:

• Michael Gregor 2016 talk 1.5 hour video "How Not to Die" (The impact of diet on our health - why to eat mindfully.)

• Click here for many more articles, links and resources